A new product on our spa shelves has everyone's attention.  A few drops in your water bottle can change your attitude and health.  Pure Greens water enhancer is the latest of the green tea formulas created by Pure Inventions.   Sip slowly to detoxify and build immunity while enjoying the taste.  Usually, beverages that are good for you to go down with a challenge. Not in this case, as our clients and team are trying and buying faster than we can keep in stock.  This small inconspicuous bottle holds mega healing power.
This superfood cocktail is the tri-blend of chlorophyll, chlorella, and spirulina.  Rich in antioxidants, Pure Greens helps eliminate unwanted metals and toxins.  Drink up, as it boosts your immunity while freshening your breath.  Skin Apeel Day Spa in Boca Raton serves Pure Inventions green tea water enhancers.  The company is the brainchild of two female nutritionists who pack their liquids full of the good stuff.  Sugar is replaced by stevia and lohan squash to add sweet without spiking insulin.  Caffeine is carefully eliminated to allow the precious polyphenol properties to shine through.
Pure Greens Water Enhancer Flavors And Benefits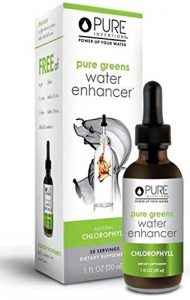 This green gem helps control hunger and cravings.  Chlorophyll eliminates body odor and protects DNA from fried food scavengers.  Helps balance candida and gives super potent antioxidant action — an effective way to oxygenate our blood flushing unwanted metals and toxins.  You can find many brands of chlorophyll on the market, but none that contain the bonus of sun chlorella and spirulina.
Boost your water for just $21.60 for one concentrated ounce of green superfoods.  South Florida's best holistic spa is serving this new product within its serenity lounge.  Cheers with extra perks such as weight loss, cancer prevention, and cholesterol reduction. Want to look younger (reduce oxidative stress) and be bacteria and virus free?  Why not try for yourself?  Stop by the neighborhood spa to grab your new product, Pure Greens water enhancer. 561-852-8081

Latest posts by Kimberley Knapp
(see all)