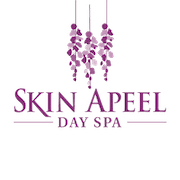 ---
Covid-19 Spa
Practices/Policies
---
---
CBS News – This is Miami – Watch Us Now



---
Skin Apeel Day Spa is time

well

spent
Time well spent for busy men, women, and teens to escape into a stress-free utopia to organically look and feel your best!
(utopia: an imagined place or state of things in which everything is perfect)
Clean Care Facility
Personalized Guest Service
Beauty Through Well-ness
---
Invest in Your Health to Invest in Yourself
– The Pure Results Your Skin and Body Are Craving for Facials, Massages and Spa Packages –
Over 200 harmful chemicals are found in makeup, skin, hair, body, dental, home care and more. Our licensed specialists are happy to guide you to your ideal cruelty-free, clean choices.
– Our Culture Delivers Stress-Relief Treatment to Improve Good Health –
With stress as the leading cause of disease – We are passionate in delivering a transformational environment focused on your well-being. Trust us for innovative, healthy, corrective skin and body care.
My first visit at this spectacular spa. I'm love getting facials and whenever I travel to Florida I like to take advantage with a day of pampering.

I found Skin Apeel through the internet and reading reviews, from the minute I walked in I was greeted with such attention. My treatment with Nelda was extraordinary and simply OUTSTANDING, her hands were delicate and yet firm when needed. I like knowing each step of the procedure and without having to ask she explained each product used and it's beneficial purpose. Nelda's skin was FLAWLESS, I won't share her age, if you ever get to have her, you guess her age! all thanks to using good products and regular facials. Overall I was 100% pleased and will without question revisit again.

read more
Maritza Birman
15:09 25 May 21
I was given an full hour Swedish massage as a Christmas gift...I scheduled it for last Saturday morning, and I just have to say, WOW! The spa is

beautiful, so well done. I was warmly greeted at reception, given the tour around, offered chocolates and my choice or room temp or chilled water, then I browsed around at their VAST selection of products and gifts. (LOVE the wisteria and lights on the ceiling!) Lexi found me and led me to her room, and once she began the massage, I was absolutely BLISSFUL. Far and away the BEST massage ever! I would HIGHLY recommend her ~ I'll be going back SOON! Skin Apeel offers what the best spa should - world-class service and an ambiance that relaxes and nourishes you, body and soul. (Gave my son a huge hug for giving me such a fabulous gift!!) Thank you so very much!

read more
Deborah Barrett
16:48 02 Mar 21
I experienced the Fibroblast Facial Tightening treatment at Skin Apeel Day Spa and am so amazed by the results!! This revolutionary treatment is the

most effective and natural way to stimulate YOUR OWN collagen. I recently had my front neck lines done, my 11's between my brows as well as my upper and lower lips and naso-labial folds. I am so pleased with the results of this. Everything is so lifted and firm and it all comes from my own bodies ability to produce collagen naturally. My family and friends saw the difference right away and I'm still seeing the results take place daily.

read more
Mary Keefe
14:53 06 Dec 20
About a month ago, I decided to do the fibroblast plasma procedure with Martha. After an initial consultation where she answered all my questions

and explained the whole process to me in detail, we can up with a plan that would best suit me and my areas of concern.I had my eyelids, crows feet and below my eyes done. First she numbs everything with a topical cream. While that is working (about 45 minutes), you relax in a warm treatment bed, listening to soothing spa music. Once everything is numb, she starts the procedure, which does not take too long depending on how many different areas you do. The whole process is painless and she makes sure you are completely comfortable.I saw results instantly and more gradually everyday. It took about 2 weeks or so for everything to completely heal and to be able to put make-up on again. I did not need any down time. I was back at work the next day. Immediately after, you may experience the sensation of a bad sunburn, but you will receive cream and spray to apply and sooth the area. No washing or getting it wet until the small scabs fall off. You can lightly pat the area with a damp cold rag and then pat dry. That is what I did.Fast forward, I LOVE my results. My eyes are so much brighter and youthful. I get a ton of compliments from everyone who knows that I had it done. The difference is 100% noticeable and so worth it. Having the fibroblast was the best decision I have ever made. It gave me the results I would of had with plastic surgery, at a fraction of the cost and down time. I am already scheduling future appointments to have my neck, forehead, and the creases on the side of my mouth done. Thank you so much Martha and Skin Apeel.

read more
Kern House
23:11 04 Dec 20
This place is such a gem! Angle greets you with such a warm welcome when you walk in you feel the stress melt away. I had Martha as my esthetician.

She was amazing! Her touch is wonderful. Very knowledgeable on what would be right for your skin. Her recommendations were right on. My skin looks so fresh,clean and smooth. I'm looking forward to seeing her again for my next facial! I would definitely recommend Martha. Kim the owner runs a great business every detail is so well thought out and precise. Over all Skin Appeal has the perfect amount of pampering. Looking forward to my next time there!

read more
Arielle L
20:49 03 Oct 20
This weekend , I went to Skin Apeel for the first time after a recommendation by friend! I am so happy I did ! Not only is the spa gorgeous , the

staff was amazing ! I had a 75 minute facial by Adelle which was fantastic ! Not only was it extremely relaxing, afterwords my skin was glowing ! She recommended and discussed products that would be suitable for my skin type. I would definitely recommend a visit to this spa if you have not tried it yet and give it a five star rating I will definitely be back!

read more
sheri silvers
10:31 02 Oct 20
I really enjoyed my shellac manicure! Michelle took her time and gave me the perfect french shellac! The spa is so beautiful and all of the employees

welcomed me for my first time. Angel at the front desk was so helpful in making my appointment, showing me around the spa and explaining all of the services offered! Definitely coming back:)

read more
Alexia Rodriguez
19:52 21 Sep 20
I got a teen facial with a kiwi mask done by Nedra and it was AMAZING!!! Totally recommend. My face is already looking better. The service was

excellent and the environment was relaxing. The spa was also very clean and sanitary. I will definitely come back!!

read more
Emma Golub
14:54 30 Aug 20
Love the ambience and services there. I get my facials from Cynthia and she is super sweet, very knowledgeable about skin and the products. She does

not force anything on you but gives good and honest recommendations based on what your skin needs are. Services there are excellent!!

read more
Manishka Ewing
21:03 19 Aug 20
I have been to a couple of different spas in Boca Raton and had facials from other spas around the country..this was the BEST facial I have ever

received! Betty was an absolute angel that definitely knows her craft! She was very professional, explained everything she was going to do and gave great tips! Her facials and massage were so GREAT, so relaxing and my skin glowed after! I wanted to take Betty home with me! Betty showed me around the spa and took time with me! The spa was clean, and the staff were friendly! Lots of great gifts too! I booked my next appointment and can't wait to go back! The details after my visit were spot on with the owner giving a follow up call and a note from Betty! Great job to the owner who runs this spa with customer service and details in the follow up!!

read more
Kristi Ramella
13:37 12 Aug 20
I went to skin apeel for the first time the other week. I have been looking for a place to get facials regularly. This is definitely the place. I

scheduled a full facial with Adele. She was extremely knowledgeable and super nice. She walked me through what kind of service would best fit my skin needs. I felt so relaxed and my skin was glowing after! She even gave me samples of the products she used on me and didn't push me to purchase right away which I appreciated. Also, for going to a spa during covid I couldn't feel safer than going to this one. They did a temperature check, everyone was wearing masks and it was extremely clean and very sanitized. Additionally the staff is very friendly and the spa itself is beautiful and very calming. I will definitely return for a facial and want to try a massage as well!

read more
Hilary Cohen
19:24 09 Aug 20
I had an amazing experience at this spa! Inside is beautiful and so clean. The staff were so friendly and welcoming. My massage went so well and I

was definitely extremely relaxed after. The woman who provided my massage (her name escapes me right now) had wonderful customer service and really did a great job! Will be going back

read more
Kelcie Rivera
01:26 01 Aug 20
Very happy with my service. Rose was extremely professional, kind and welcoming for my first time being there. Definitely recommending her services

to my friends and family!

read more
Amber Molina
15:55 29 Jun 20
This place was amazing! My Mom bought me a facial as she has been going to this spa for 18 years! Everything about Skin Apeel is AMAZING! Nelda

was just fabulous. I've already booked my next appointment!

read more
Tracey Butz
14:17 06 Jun 20
From the moment I walked in, I absolutely loved this spa ! It's so relaxing and all of the staff were so friendly. My manicure came out perfect

and I Just love it. It was quiet and slow paced. Overall a fantastic experience. I will be back for sure. I could have stayed all day . 🙂

read more
Mallory LaCoursiere
08:36 06 Jun 20
Skin Apeel is the best spa in Boca. Thank you for taking precautions to keep your employees and customers safe by applying social distancing

guidelines as you reopened. Anna provide excellent service and a great pedicure. Thank you for being so wonderful

read more
Mary Anne Tate
02:13 23 May 20
My boyfriend and I were here yesterday for massages. He had Autumn and I had Janey who are both amazing. He said that was the best massage deep

tissue massage that he ever had. Janey was really great also. I really enjoyed it. They also have alot of great items to look at & buy too. We'll be back for more services!

read more
Jessica Hernandez
13:22 14 Feb 20
I have to say, I was taken aback by my experience at Skin Apeel. The entire staff were super down to earth. (Not normal for a Boca spa.) The spa was

beautiful and calming. They even had some really cute gifts (if I were in the market)...always fun to look.Eden was beyond wonderful!! I recommend her for any facial/skin care treatment. She was so incredibly knowledgeable.

read more
Leesi Oshins
23:32 04 Feb 20
I found this spa based on Google reviews and I understand why they have so many now that I have visited. Not only was my visit pleasant but my

massage therapist, Janey, was very passionate about massage and I had been experiencing pain and since my massage the pain has been gone. Also, they have a customer loyalty program which I found impressive and very smart marketing. I will definitely be taking advantage of the new client 20% off and $20 credits.

read more
Connie Gundrum
16:03 22 Jan 20
This place was amazing! I got a gift card as a birthday present, and I wasn't sure how the place would feel since I had never been there.From the

moment I walked in with my mom, it was like we were in a completely different place. The place is gorgeous and well-kept. And words fall short! The people are kind and very professional.They have drinks and snacks, and the ambient is just perfect for absolute relaxation. I loved the massage!You know a place is good if you have been there for 5 minutes and already know you want to come back again. ?

read more
M. Karla Falcon
02:48 21 Jan 20
The moment I walked through the door I was embraced with not just the serenity of the atmosphere but with the people as well. I felt so welcomed at

reception and was given a tour from hot special teas to cold ones and more. Everyone there was so pleasant. Cynthia did my facial and was so professional, kind, and extremely knowledgeable. I found out they have been there for years and only wish I had gone sooner. I think by now you've figured out that I've booked another facial and a body massage. I will definitely be telling everyone to try them.

read more
Lynn Loffa
19:13 19 Jan 20
The decor is quaint and peaceful. Every staff person that I interacted with was kind and helpful. The deep tissue massage service that I had was

great and the therapist was knowledgeable. Great find!

read more
Kasandra Gehring
12:45 06 Jan 20
My experience at the spa today was great! From the moment I walked in everyone was so welcoming and friendly. The space was beautiful and had great

energy. I did a full facial with Betty and it was fabulous from beginning to end. I can't wait to go back!

read more
Randi Pollack
03:35 31 Dec 19
The relaxation began from the phone call to schedule my appointment until well after my facial. Skin Apeel has mastered the art of creating a warm,

welcoming, positive atmosphere that is conducive to the ultimate self care experience. 10/10 recommend.

read more
Maitel Green
17:17 29 Dec 19
I had my first ever facial with Nelda. I can say with absolute certainty that it won't be my last. From the moment you walk in you are made to feel

welcomed and relaxed. Would highly recommend Skin Appel!

read more
Wendy Straus
15:12 25 Dec 19
This is officially my favorite spa. I never would have discovered it but for my boss getting me a gift card for the holidays. It's in a plaza

I've driven past a hundred times but never noticed. The second I walked in I knew I would have a good experience. They've thought of every detail here. The ambiance is calm and relaxing, it's beautifully decorated and there are a ton of gorgeous gifts and amazing bath products for sale. I also love the way they greet you at your first visit and show you around. During my first experience here I got a pedicure with Angela and it was impeccable. I am definitely coming back here again and again. Love it.

read more
Nicole Oden
16:39 21 Dec 19
Skin Apeel is the ONLY Spa you will need in your life. Everyone is amazing. My husband and I never wanted to leave! Laura and Janey were the best!

Everyone was welcoming and professional. We are regulars for life and I am treating my sister for the holidays! Book your appointment. You will not be disappointed!

read more
Sharon Ursone
01:17 24 Nov 19
I really like this place! I had my first facial (by Genine) over the weekend; it was fantastic and incredibly relaxing. The spa smells amazing, is

cutely decorated, has snacks and many refreshments. They have a large assortment of products- their own and other brands. I found Genine to be so sweet, gentle (but firm), knowledgeable and informative. At the end, she didn't try to push any products on me, hustle me to book another appointment or try to push any memberships on me- it was nice and I will def. be returning to see her again.

read more
Meaghan Mattson
18:17 20 Nov 19
This spa is amazing! The staff is very professional, the treatments are top of the line. A beautiful, serene place with a great gift shop. I had been

considering microblading my brows and was anxious about the process. After a consultation with Martha, I decided to do it. I am beyond pleased - my overplucked, thinning brows have been transformed and now really frame my eyes and my face. Martha is a true professional and I highly recommend her for this procedure. Love Skin Apeel!!

read more
Lynne Partington
11:08 08 Nov 19
Lovely experience. Had the lymphatic drainage massage for my face and neck. Betty was amazing! I will definitely be back! 🙂
Ashley Sacks
18:03 31 Oct 19
My mom got me this gift card since I'm pregnant (30 weeks) and she wanted me to relax. This was incredible. The entire staff was friendly,

professional and knowledgeable. Laura did my massage and was an expert at helping me be completely comfortable and relaxed with my big belly. I'm 99% sure I fell asleep for a second there it was so wonderful. Angela did my full facial and my skin has never felt better. She told me everything she was doing as she was doing it and made sure I was feeling 100% while on the table. I'd recommend this spa to anyone and am going back again in 4 weeks. Can't wait 🙂

read more
marcela lopez
00:40 25 Oct 19
Absolutely amazing. Mary did my facial and I cannot thank her enough for such a relaxing experience! Not only did I receive a facial, but along with

it, I got a foot/hand/scalp massage. This didn't feel quick or rushed like other spas can sometimes feel. Mary took the time to get to know what I was looking for and who I am altogether as a person! Every person I encountered was so friendly and attentive. I will absolutely be returning to come see Mary again!

read more
Alejandra Rodriguez
20:32 15 Oct 19
Wonderful experience overall! From the moment you walk in, you are given a tour of the spa and where everything is located. They have a wonderful

team and great customer service. My facial was done by Martha. At first, I wasn't sure what kind I wanted, but she was very informative and helped me make the best decision. I loved my facial with her and I will be back!

read more
Bree DiBernardo
18:28 14 Oct 19
Triee this place out for the first time on 09/07/19 and had a facial with Charmaine. The facial was extremely good - personalized and did not at all

feel like she held back with using product. Some places have facials that are exactly to the tee. They follow the steps habitually and never feels like it was meant for my skin. This place customized every facial. And they do a great job at explaining what the different organic products will do for my skin. It felt great and i loved getting massage on my hands, shoulders, scalp and feet as well. I highly recommend!

read more
Luanne Shub
12:59 11 Sep 19
This place is simply amazing. As soon as you walk in, the place smells amazing. The receptionists are very professional. The waiting room goes beyond

what words can explain. It is truly relaxing and beautiful. There is freshly infused waters offered along with a couple of other treats. It is truly a VIP experience. The massage specialist has hands of gold! They know how to reach every pressure point so that you feel amazing walking out. I would definitely recommend this place for your next spa day.

read more
Jasmine Rapley
15:19 06 Sep 19
Absolutely heavenly experience, I highly recommend this spa. Not only are they technical experts, but they know how to maximize your experience of

being pampered. The facial I had with Betty was a full experience, not simply a facial. I can't wait for my next visit!

read more
Alisa Lebensohn
18:10 28 Aug 19
This place is amazing the atmosphere is very comfortable and relaxing. The staff is friendly they make you feel at ease. Yesterday was my first

visit there I'm planning on going back for my birthday next month.

read more
Franceline Pierre
16:47 28 Aug 19
Heaven on earth!! I can't even put into words how amazing this place is. Everyone is so friendly and welcoming. Great massage from Janine and looking

forward to my facial on Friday! Wonderful selection of products as well. I would move in and live there if they would let me 🙂

read more
Beth Born
13:47 28 Aug 19
I had a facial here and I highly recommend the service. I had never had a facial so didn't know what to expect. I was given several options and chose

one that fit my needs perfectly. So relaxing and my skin looked so much better when I left. Love this place.

read more
Polly Burks
13:39 28 Aug 19
I had a facial here and I highly recommend the service. I had never had a facial so didn't know what to expect. I was given several options and chose

one that fit my needs perfectly. So relaxing and my skin looked so much better when I left. Love this place.

read more
Polly Burks
13:39 28 Aug 19
Patrice at was wonderful. As someone who is hesitant to get/have massages, her temperament put me right at ease and her skill and attention to my

concern areas were tremendously appreciated. I can't wait for my next appointment. Thanks Patrice and staff!

read more
Sarah Angell
13:44 26 Aug 19
This place is outstanding! Went here for a couples treatment and it went well. My girlfriend and I enjoyed ourselves. I will definitely go again.
Noah West
19:52 13 Aug 19
I received a gift card as a thank you present. I booked my massage and was treated like royalty! I had to postpone twice due to a bad cough and they

were most accommodating. Then, from the moment I arrived until the moment I left, it was just purely wonderful! The atmosphere, the staff, the pampering, the massage, the relaxing and generally kind attitude of everyone there really impressed me. I have already booked my next massage!

read more
Diane Homrich
19:01 14 Jun 19
A friend recommended this spa and I had a fabulous "Express Facial" which I thoroughly enjoyed! Cynthia has very nice hands and my face feels much

better! I certainly would recommend Skin Apeel for anyone who is looking to treat themselves to a facial or any other service. The spa is gorgeous and pristine! A true gem!

read more
Masha Chaffee
17:39 13 Jun 19
Absolutely love this place! Everyone was so incredibly nice and attentive. I walked in feeling stressed and walked out feeling cool, calm and

collected. They not only have amazing flavored waters, delicious healthy snacks but they also have beautiful jewelry that make excellent gifts. So glad I went there today! Definitely two thumbs up!!

read more
Amanda Bartell
20:26 30 May 19
I had an awesome birthday gift certificate to this wonderful spa. I thoroughly enjoyed my massage and lavender pedicure today. Actually, I have been

taking advantage of Skin Apeel 's services since 2001. I also have introduced friends and family. Not once in all those years have I ever been disappointed- always a relaxing atmosphere with professional staff- highly recommend.

read more
Sophie Cieciora Boden
18:37 26 May 19
Friday was my first visit to Skin Apeel after years of my friends telling me I should go. From the moment I walked in a felt a peace. The ambiance

and the aromas were amazing. The woman that performed my facial was an angel and I felt like I was in heaven. Very affordably priced. I would recommend Skin Apeel to anyone, not just as a treat, although it is, but as routine, because we deserve it.

read more
Sheryl Medved
12:04 26 May 19
From the moment you walk into Skin Apeel, you can feel an atmosphere of relaxation. From the kind service at the front desk, to the therapists—

this place gets an A+++. I choose to go to Mary for my facials, she's knowledgeable, professional and very sweet. I'm so glad I found this spa. I love this place!

read more
Jeanette Pabon
00:44 26 May 19
I had my first facial here and it was the best! My friend recommended Mary, she was so professional and personable; not to mention her hands feel

like silk. She asked me about my skin routine & habits, and determined what best suited me, the results were amazing. I have never seen my skin so beautiful. The whole time she had aromatherapy in the room. I will definitely will be booking another session with her soon.

read more
Natalia Linares
14:43 25 May 19
Had an incredible morning Skin Apeel. The most relaxing and therapeutic massage by Jerilyn, followed by an amazing Facial with Marta. Everyone was

very friendly and accommodating. Perfect place to celebrate an early mother's day gift with a friend.

read more
Sara Adler
11:36 21 May 19
What a great ambiance! I've only gone here once so far but it's already deserving of 5 stars. The staff is super friendly and knowledgeable, lending

towards the most relaxing experience. I left, reluctantly, feeling refreshed for the rest of the day. Cynthia did an amazing job with the facial, I've already got another appointment booked!

read more
ישעיה גורדון
17:33 20 May 19
I went to Skin Apeel to celebrate my 50th birthday. From the moment I walked in, I felt calm and relaxed. Everyone there was so focused on making my

experience special. I had a facial and massage, both were amazing and I am looking forward to returning soon!

read more
Bev Sylvia
00:33 16 May 19
Yesterday was my first visit to Skin Apeel Day Spa and it was a wonderful experience. Everyone was so warm and welcoming. 90 minute massage with

Patrice was heaven. Can't wait to come back!

read more
Kelly Morris
12:34 29 Apr 19
Apeel day spa was the best spa I have ever been too! From the minute you enter the spa it is peaceful and the girls at the front welcome you in a

friendly and warm fashion. Then I was lucky enough to get Martha as my facialist and she was fabulous. She was very knowledgeable and extremely hands down the best facialist I have ever had. I am In Love with this spa and can't wait to go back! Thank you Apeel day spa for a wonderful experience

read more
arlene gopen
18:47 10 Apr 19
Today was my first visit to Skin Apeel and from the moment I walked in I knew my experience was going to be wonderful. The aesthetic of the spa is

beautiful, calm and relaxing and the front desk attendants were very welcoming and nice. Madison showed me to the "serenity room," offered me a beverage and snacks while I filled out paperwork and waited for my appointment to begin. In less than five minutes I was already relaxed. Alex did my facial and I can't say enough good things about her. We discussed my skincare needs and she suggested what she thought was right for me. She is friendly, knowledgeable and makes the entire experience very comfortable and relaxing. I felt very confident in leaving my sensitive skin in her hands and I left feeling like my skin was fresh and glowing. Overall, the experience is exactly what you would want from any spa. I will definitely be back. I can't wait to try some of their other services!

read more
Kimberly Rodriguez
17:28 24 Feb 19
Fabulous service. This place was way more than I expected. I've been to many spas before but this one is extra special as the staff makes you feel

so welcomed as relaxed and are super professional and experienced.

read more
Laura Borgert
15:49 24 Feb 19
LOVE LOVE LOVE my experience! It was a gift from a friend, but now I'm a devoted customer. Can't wait to try more treatments. Gorgeous relaxing

decor. Excellent staff. See you guys soon.

read more
Carolyn Geraci
17:09 18 Feb 19
Wonderful experience! Made an appointment for a facial here due to all the rave reviews and they certainly lived up to them! Beautiful, relaxing

atmosphere and I loved how my facial was customized for my skin. Betty is amazing! She made my sensitive skin feel and look wonderful. Will definitely be back and recommend my friends. A++++

read more
JENNIFER ISAACS
22:16 09 Feb 19
I had a wonderful experience. It was my first time and the spa itself is really pretty. Everyone was welcoming. Adelle is great. She helped me

decide which facial would be best for my needs and did a fantastic job. I'm going to make this a regular thing!

read more
Allison Kaufmann
21:59 07 Feb 19
Such an amazing experience! I received a gift card and had my first visit today. From the moment you walk into SKIN APEEL You are made to feel very

welcome. Front reception Cindy was EXCELLENT. Angela gave me a terrific pedicure. Everyone was extremely friendly. I loved it!!! Great vibes all around

read more
Such a wonderful experience for this mommy to be! My coworkers got me a gift card to go pamper myself and it was such a delightful experience. I had

a prenatal massage and express facial, it was relaxing and exactly what I needed. All employees had great customer service and were friendly and inviting. I ended up buying a few products as well. They have so many interesting things from skin care products to trinkets and clothing. I am looking forward to going back soon in the future! Also the cucumber mint water with lemon sugar ice cubes was so refreshing, what a nice touch.

read more
Tara Galloway
00:38 03 Feb 19
I had the most relaxing experience from the moment I walked in the door. ALL the staff were so friendly with truly genuine personalities. I had a

facial treatment by Mary and she was wonderful! I never felt rushed to leave, they actually told me I could stay and relax as long as I wanted after my treatment. Thank you for outstanding customer service Skin Apeel Day Spa, I will be back!

read more
Erica Harding
14:13 30 Jan 19
This place is incredible. I've been searching for a great little spa and I have finally found my place! Amazing experience, facial was relaxing and

I already see a drastic difference in my skin. Will be back very soon!

read more
Sarah Levi
12:23 27 Jan 19
I am so HAPPY with the facial Betty performed on me! She listened to my concerns and formulated a treatment for my face. Betty is so knowledgeable,

professional and kind...plus her skin is flawless! The ladies at the front desk are also kind and welcoming. I will return very soon!!

read more
Tonya Albritton
17:27 11 Jan 19
Today was my first visit to this wonderful spa. I had the best facial I have ever had. My skin is luminous and feels so supple. (I'm 58 so that isn't

an easy thing). My aesthetician (Angela) was wonderful, too. I can't wait until my next visit (I didn't want to leave tonight)! And I'll be telling all my friends about Skin Apeel, too. Amazing.

read more
Kimberlee Kemble
00:29 11 Jan 19
My spouse decided to pamper me for the holidays with my first visit to Skin Apeel Day Spa! My first appointment was the Aromatherapy massage with

Jeralyn that I thrilled to say worked out some end-of-year stresses coupled with me finding a wonderful local Body Care Specialist for my future needs. My second appointment will be enjoyed with an Antioxidant facial, manicure and pedicure that I am really looking forward to based on what I have experienced thus far at this local Boca beauty!

read more
Lyndee Russell
15:49 29 Dec 18
Skin Appeal is a great place. I had never had a facial treatment before, but can attest that it is well worth it at Skin Appeal. Their space is very

comfortable and clean, and the professionals are really experts at their jobs. I am now going on a more regular cadence and only wish I started sooner.

read more
lloyd granet
00:24 28 Dec 18
I have been to skin appeal countless times over the past 10 years. I absolutely love their services and the quality that they offer! Their products

are fantastic and I really trust the choices that they include in their shop. The facials are really medicinal and wonderful for me and my entire family.

read more
Sylvia Granet
17:14 26 Dec 18
Skin Appeal Day Spa is the ultimate spa! I have gone for many facials with Charmaine and each one is incredible. They are so restorative and

peaceful. Additionally the shop has such fantastic merchandise — all sourced ethically and responsibly. They even hve delicious snacks and drinks they are healthy to have while you wait.

read more
Nicole Granet
14:37 26 Dec 18
Great experience at Skin Apeel Day Spa. Elegant and warm environment. Friendly and helpful staff. Loved my massage with Darcy. Looking forward to my

next appointment!

read more
Willa Shapiro
19:53 25 Dec 18
Worth every penny! Skin Apeel is an amazing experience no matter what treatment your receiving. Great customer service
Alyson Winderbaum
22:53 19 Dec 18
When I walked in the door for the first time, I felt as though I was walking into a fairy house! It was so beautiful and tranquil. I loved the

treats and the relaxation lounge which I enjoyed immensely before going in for my facial. The customer service was stellar, and I will definitely be going back again. Thank you for the positive experience.

read more
Alyse Rabinowitz
20:08 14 Dec 18
Loved my massage. Wow, what a great place, won't ever be going anywhere else! Looking forward to my next massage!
Shannon Moskoff
21:06 10 Dec 18
The second I walked in Skin Apeel I knew I would never go anywhere else. Everyone was so friendly and the environment was so clean and peaceful. I

had the BEST facial with Nelda. She gave me so many tips to improve my skin. She made sure to check in so I knew what was coming next. I felt so comfortable and relaxed. I cannot wait to go back!!

read more
Danielle Latter
17:06 02 Dec 18
I will NEVER go anywhere else. The staff is amazing. The owner is a sweetheart. And my raindrop massage was the best experience I e dr had.
Shannon Rules #LipBooty
17:06 01 Dec 18
What a wonderful experience from beginning to end!I am visiting a friend and we decided we "needed" a massage.We stumbled upon the Skin Appeel

website and booked them for today.They were so accommodating when we called and again when they left amessage confirming our appointments. Today we were greeted warmly and immediately felt at home... not only is the spa pristine and beautiful, it is cozy and inviting. As for the massage itself....Heaven! Autumn has magical hands.We left feeling like "Princess"....my friend already planning her facial and me looking forward to my next trip so I can return and enjoy more pampering. Thank you all for making our visit so memorable.

read more
DEBBIE PARENT
20:14 13 Nov 18
Excellent service, friendly staff and great location.
Randy Caputo
19:11 13 Nov 18
I had my first service here this afternoon (a prenatal massage) with Patrice and it was wonderful! Love the staff and the relaxing ambiance. This

place is definitely a hidden paradise in Boca Raton.

read more
Erica Jacobovits
21:41 28 Oct 18
I only went to Skin Apeel because my boyfriend gave me a gift card. However, as soon as I entered, it felt so serene and peaceful. Everyone was

VERY welcoming and professional. I was still a little skeptical to have a facial. My experiences with other spas have caused breakouts nor any skin improvement. But as soon as I met Mary she was heaven sent. She gave me an evaluation, gave me a knowledgeable recommendation, and went over the ingredients incorporated in the products she was going to use. We also went over my skin care, which was all wrong. And after facial she only recommended products that would help me at home. She didn't push just to make a sale. The results of my facial were instant. The blisters on my chin were gone and I had a glow on my skin; even my boyfriend noticed. The products I purchased have helped. The blisters are gone and I continue to have a glow on my face. The best part is the products they carry/use are holistic and animal cruelty free. Conclusion, I am a loyal customer and can't wait for next appointment in 4 weeks.

read more
Nataly Licata
15:04 12 Oct 18
What a wonderful manicure experience. First impression upon walking in the front reception area was adorned with hanging purple flowers that were

gorgeous and each of the staff members welcomed and greeted me. The serenity lounge was so peaceful and beautiful and the selection of teas and infused waters was amazing. I was there early but I was told they serve other goodies later. I was very happy with my manicure. Ana was super sweet and very detailed. I can't wait to go back and try other services like massages and facials. They also have amazing incentives and reward programs. No surprise they have been around for 25 years! I also received a sweet gift for being a new customer as well as a thank you card mailed to my home from my aesthetician Ana. What a nice touch. They now how a new customer!

read more
Raffaella Nichols
17:23 29 Aug 18
From the very start the experience was great! I called and spoke with Vanessa and explained that I wanted to determine which facial was best for me

at the time of my appointment. That was not a problem at all, after meeting Eden and cleansing my face, she determined next best steps and unlike other spas I have been to in the past, she did not recommend the most expensive one! She recommended the RIGHT one! Thank you Eden and the entire team for making my 75 minute facial fabulous! I am definitely going back to continue my treatment. Highly recommend this spa!

read more
Erica Perez
13:08 21 Jul 18
Very luxurious... best manicure I've ever had .... My daughters and I had wonderful facials
Cori Kettler
02:00 15 Feb 18
Very luxurious... best manicure I've ever had .... My daughters and I had wonderful facials
Cori Kettler
13:26 14 Feb 18
Time Well Spent with Skin Apeel Day Spa
*Awarded Best Skin Care 7 consecutive years
*Acclaimed South Florida's Best Holistic Spa
*1st Boca Raton Spa leader for individualized approach facials, restorative body massage, and luxury manicures and pedicures
*Clients of 27 years bless our great reputation
*Internationally trained long-standing team of 30 elite professionals – Meet Our Team
*Founder, Aesthetician and CEO Kimberley Knapp – 2 Times recognized as Top Female Entrepreneur
*Abundant top rated 5 star reviews – Show Me
Visit our beauty through well-ness boutique for a healing dose of retail therapy. Browse organic high performance products, skin care, makeup, aromatherapy, homeopathy, artisan jewelry, trendy gifts and more. Word of mouth has sustained our serene destination for almost three decades. We invite you to leave your stressors at our door, and escape to experience pure service. Read More About Us