We're Fully Committed to the Health, Safety and Wellness of Our Valued Team and Guests!
Skin Apeel Day Spa has raised the bar to provide the most safe and hygienic place for our team to work and guests to escape and enjoy.
We're proud to have successfully provided our full service menu for over one year with no shared illness in our spa. Our Skin Apeel team  continues to take the Coronavirus  seriously and act, at all times, in accordance with the advice and guidance of the Government and the CDC.
Now more than ever is the need for the sacred element of spa, nurtured care and stress relief therapies. We confidently encourage you to schedule safe time to fully recharge and restore.
What to expect during your spa experience:

Our spa team is COVID-19 certified.
Service providers continue to wear masks and PPE during treatments. 
Our front desk staff will welcome you upon arrival and help you navigate to either the serenity waiting lounge, or if available, directly to your treatment room.  You may also choose to wait outside or in the comfort of your car, to be texted when your service provider is ready.


Serenity Lounge occupancy is designated to the comfort of four guests, seated 6 feet apart.

Additional outdoor bench seating.

Treatment areas will be thoroughly disinfected with a hospital EPA grade formula that specifically addresses covid-19 in between each and every guest.  Public spa areas will be

disinfected every 30 minutes.  

Touch-less anti-bacterial soap dispensers and water faucets in our restrooms.

7 foot physical distancing in our nail treatment area.

6 foot sneeze guard partition divides two pedicure thrones.


16 Air Purifiers throughout our spa utilizing state of the art UV-C sanitation, Ultra-hepa and carbon micro-filtration removing 99.95% of

particles, at .003 microns in size. (

covid measures .125 microns)

Health Climate UV-C Germicidal Lights running 24/7 within our own HVAC systems to further destroy microbes and viruses.  Chemical-free air sanitation similar to outdoor air.
Sneeze guards and social distance spacing at front desk reception.
Hand sanitizers throughout the spa for your discretion of use.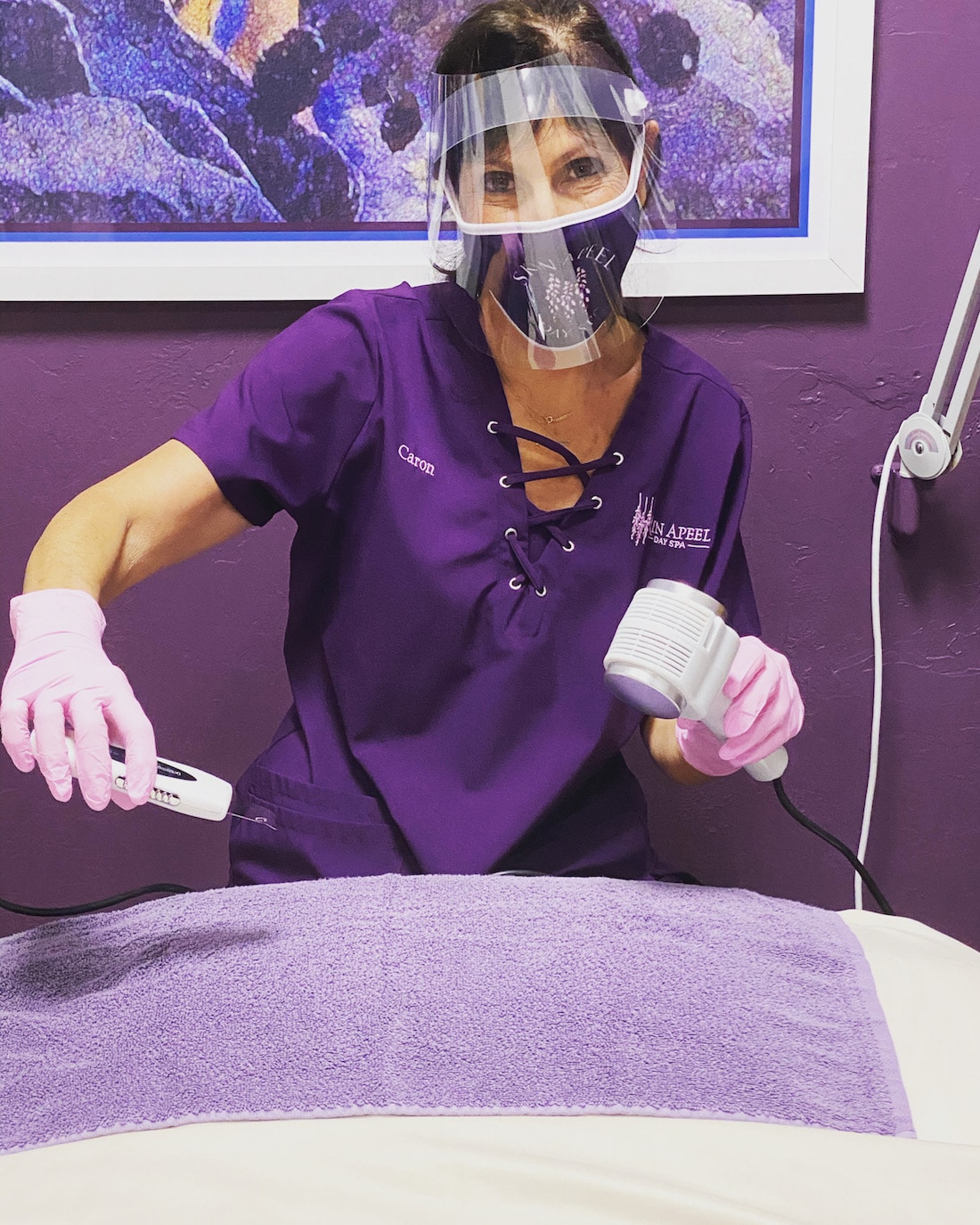 Your part,.. We ask guests abide by the following:

Refrain from visiting the spa if you or anyone you have been in contact with have a fever COVID-19 symptoms or a communicable illness.

     Refrain from visiting the spa if you are under an isolation or quarantine order/directive.

    For non-vaccinated guests, masks will be required upon entering and in all open spaces.  Please bring a mask in order to remain within our spa.

     Respect the spa's sanitation, hygiene standards and processes posted within the spa and shared by employees.

     Be mindful of safe social distancing while waiting at reception, within client serenity lounge and browsing hallways.

     Refrain from bringing friends or family members who do not themselves, have scheduled spa appointments.  Those without reservations will not be allowed to remain in our spa due to our commitment to reduced numbers.

     Wash hands prior to beginning each treatment/service.

     Share special sanitation or hygiene requests prior to arriving at the spa.

To reserve a treatment, please visit skinapeel.com or call us at 561-852-8081. At Skin Apeel Day Spa, our passion is in serving you! We look forward to bringing much needed nurturing to our guests and team.