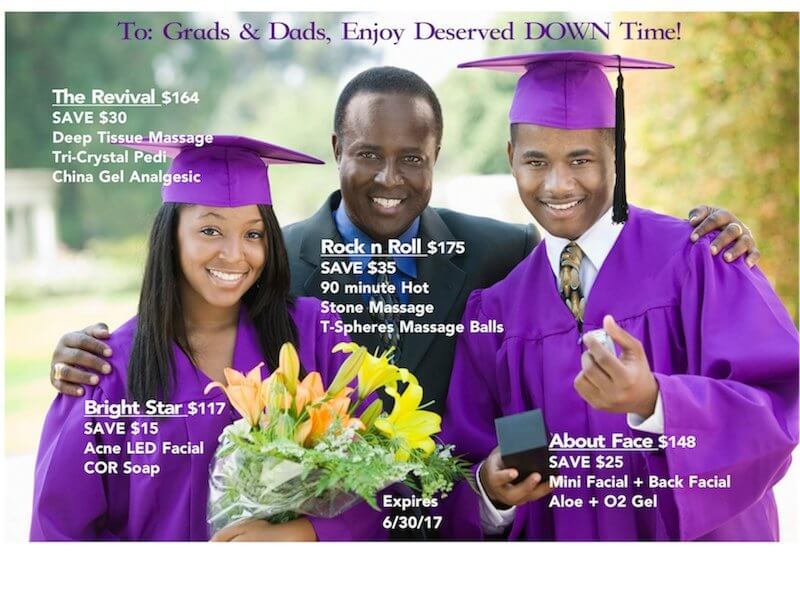 Great gifts await at your neighborhood spa. Dads and grads alike love and deserve downtime! June is a big month as their hard work payoff is now due. All too often, we spend on necessities and neglect treating ourselves to exceptional care.
Skin Apeel Day Spa has been the neighborhood spa of choice since 1992. This dad and happy grad haven have excellent gifts to give. Let downtime begin with the best "Rock n Roll" spa package.
A top pick for men as it claims to fame is the coveted 90 minutes hot stone massage. Imagine warm basalt stones soothing muscle aches and pains. The stone temperature is just above the body's, so comfort and escape are the goals. Roll-off a super comfortable bed after rocking with hot stones only to take home t-spheres. T-spheres are therapeutic flex balls to roll out areas of tension at home. Hot or cold, it's all oh so good.
Save $35 with Rock n Roll. Special package price is $175.
More great gifts available with "The Revival" which parallels the aah feeling with a dynamic duo…
Save $30 with a 60-minute deep tissue massage and infamous tri-crystal pedicure. This head to toe escape calmly sends you home with china gel analgesic. Spot treat with this icy hot remedy to keep feeling your body best. It's a super steal priced at $159. It definitely ranks high on the great gifts list. Skincare is super important during the hot summer months. In honor of summer, the next two spa gift packages are skin savvy. "
About Face" is the cleansing combination of mini facial and back facial. This is made for dads and grads who want to be squeaky clean. Deep cleansing, exfoliation, and mask finish face and back well. Save $24 and take home Epicuren's Oxygen infused Aloe gel. Priced to please at $144.
Last, but never least is one of the grad's great gifts named "Bright Star." It shines bright with the spa's Acne LED Facial to treat inflammation and blemishes. Teens love this corrective calming facial. Packaged priced right at $117.
Continue with clear skin at home with using silver service COR soap take away. Save $15 and save your face too. Don't see what you want… More great gifts are a click away at South Florida's best holistic spa!