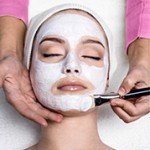 Best Spa in Boca Raton for your beauty skin solutions. Our expert facial team customizes your experience every time to give you healthy, glowing results. Featuring the best of natural skin care, our complete
facials
include a soothing face, scalp, shoulder, hand and foot massage to offer you our undivided attention. Please allow our knowledgeable aestheticians to evaluate your skin's needs to best recommend the appropriate facial.
A first facial to prepare the skin for custom care. Consultation, cleansing, extractions and mask.
Your facial fix to resolve teen and adult acne. Blue LED anti bacterial therapy light combined with effective acne anti-inflammatory treatment yields amazing results. Skin Apeel is the best spa in Boca Raton to restore your healthy skin.
Your facial enhanced with a light enzyme peel to pave the path for clear smooth skin.
 A facial experience to deliver results. A super chocked vitamin enriched full facial experience loaded with this season's pumpkin and cranberry. Includes analysis, cleansing, extractions, cranberry enzyme peel and pumpkin hydro mask.
The X-treme Results transformational face and neck experience.  Integrated high tech impulse LED therapy combined with advanced micro-current and ultrasound penetration. Try one or restore the fountain of youth with a 6-10 weekly series.
NEW Diamond Crystal Micro-Derm with Cryotherapy
$125 (face & neck)
$150 (with decolletage)
Gentle, yet deeply exfoliating and brightening for all complexions.  Includes cryotherapy for toning and soothing. Comfortably reduces skin congestion, dullness, hyperpigmentation, fine lines, pore size and scarring.  Best in series of 6-10 received every two weeks.
Our restorative Eminence spicy blueberry enzyme peel with a cooling tonifying charcoal mineral mask.  This comprehensive all skin contrast therapy breathes new life into a stressed skin.  A wonderful option for acne or aging skin.
Purify and clarify with oxygen and nature's Vitamin C. Hyperpigmented, sun damaged and smokers skins all receive an immediate boost.
Ultra sound powered by purified water, LED Red collagen producing light and mega dose of restorative peptides will blast your skin into beautiful balance. Voted Top Facial pick by discriminating spa clients.
Organic kojic acid combined with proprietary enzymes focus to deliver immediate lightening and brightening results. Gentle yet effective corrective facial.
Organic powerhouse enzymatic treatment minimizes acne to aging alike, restoring a healthy glow. Intense facial using steamto give flawless results. Celebrity endorsed and requested.
MicroCurrent Non-Surgical Facelift
$199 Single
$1840 (10 Sessions within 5 Weeks)
The ultimate rejuvenation experience for all skins 30 years plus! Our most progressive facial implementing holistic high-tech advancements. Restoration is achieved with clear skin hydro-dermabrasion, microcurrent muscle lifting, LED wrinkle reduction and target serum infusion. This fitness facial re-educates muscles and skin to a youthful, plump lifted state. Safely turn back time with a fresh face toned, hydrated and energized. No down time – Try one to see for your younger self!
Organic Red Carpet Tighten
The celebrity wow me now choice to hydrate, lift and glow red carpet style.  An organic Arcona experience that delivers a customized enzyme activated ageless skin face and hand peel, the best lift and tone face and neck mask, and a cascade of vitamin peptide support. The finish is a conditioning pneumatic oxygen blast fortified with heavy water.  Radiant results!  All skin types will benefit from this tailored to fit LA famous facial.
A premier ooh-la la experience. A skin changing treatment to purify, nourish and rejuvenate a depleted complexion. Grape seed glycolic cranberry cocktail primes the skin to receive targeted nutrition. Layers of chirally correct Vit C and bio-marine enzymes fortify a smooth even complexion. The pearl brightening mask makes the skin sparkle and shine with a radiant glow.
Alternative Micro-Needling 
The holistic non-invasive alternative to micro-needling.  Pyramid silicon fibers comfortably create micro channels to penetrate target serums skin deep to repair and restore. Collagen and elastin fibers are replenished as a by product to this remarkable skin procedure.  An oxygen blast seals results to rejuvenate a fresh healthy skin.  The solution to acne and aging alike. 14 day mini follow up session accelerates flawless results
A "no frills" facial for the young enthusiast. Sensible home care tips included.
Salycilic Acid Back Facial
Deep cleansing, exfoliation, extractions and clarifying mask for your back, neck and shoulders.
Lymphatic Massage (Face & Neck)
"Vodder technique to stimulate lymphatic cleansing to improve circulatory health and healing. Non invasive relaxing face massage alleviates acne, sinus pressure, headaches, edema and insomnia."