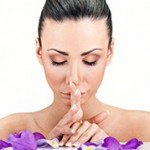 Since 1992, Skin Apeel Day Spa's philosophy is beauty through wellness by offering holistic, spa rituals that deliver therapeutic whole body care. All spa rituals combine aromatherapy, exfoliation, compresses, massage, and masks to create a spa escape that balances and restores. The spa rituals incorporate global elements from ancient rituals traditionally practiced in regions all over the world.
Known as the movement of universal life energy. Through the gentle and specific placement of her hands, your Reiki practioner will direct this energy to stimulate the body's natural ability to heal itself.
The art of massaging specific pressure points of the feet, enhancing circulation to the corresponding organs and meridians. Restores internal harmony and relieves foot fatigue.
Thai Foot & Leg Treatment
Pure bliss for the legs and feet. Traditional acupressure, massage, river stones and warm towels are synergized to revitalize and refresh your entire being.
This spa body treatment features high vibrational essential oils rain dropped on the body to encourage chi movement. Spinal and reflex points promote Anti-Viral, Anti-Sclerosis and Immune Oxygenation to boost overall well being.
Enjoy a skin conditioning body wrap to cool and soothe.  This remineralizing session deeply nourishes the skin and overall health. A wonderful wrap to increases blood flow, hydrate and tighten skin. Gluten-free products make this a must go to for anyone seeking a clean, non-sensitizing experience.
Balance your body, mind and emotions with this clinical aromatherapy treatment that combines essential oils tailored to your constitution with specific massage techniques that soothe your nervous system and stimulate your lymphatic circulation.
Bellanina Facelift Massage
Indulge your senses with pure bellanina aromatic products and face lift massage. Take rest during a unique face cleansing, exfoliation, mask and massage to transcend you far away while toning face and neck.  Acupressure hand and foot massage elevate this one of a kind age defying face experience.
This soothing body treatment reduces after sun heat and aids recovery from ultra-violet exposure.  Cool organic lavender-chamomile towel infusion, green tea-aloe mineral mask and express scalp or foot massage.  Finishing touch: organic after sun radical recovery lotion.