Most men have this image of a spa being the sole realm for women. They wouldn't consider a spa vacation for themselves, but that's changing. Men taking spa vacations have started to increase with many spas opening up their doors for men. More men are starting to take advantage of all the benefits that come with a spa vacation.
Why Are Companies Encouraging More Men to Take Spa Vacations?
Men taking spa vacations are getting noticed by companies. Many companies have started to send their employees to retreats and other sponsored events because of the benefits that can be found on a spa vacation. The world is a busy place, and the pace set by society often doesn't lead much time for leisure activities. Many companies are starting to see that when their employees are feeling overworked, underappreciated, and stressed out, work quality can diminish. This effect has created a push by many companies to find ways to help their employees reduce stress and feel more appreciated by the company. This effort can turn employee morale and loyalty around.
Companies also look for ways to build unity among their staff. A team that can relax together often works better as a cohesive unit. In fact, many spa vacations may offer team-building exercises that are beneficial for companies. The competitive nature of some of the spa vacations can help bring people together in a company.
What Does a Manly Spa Vacation Consists Of?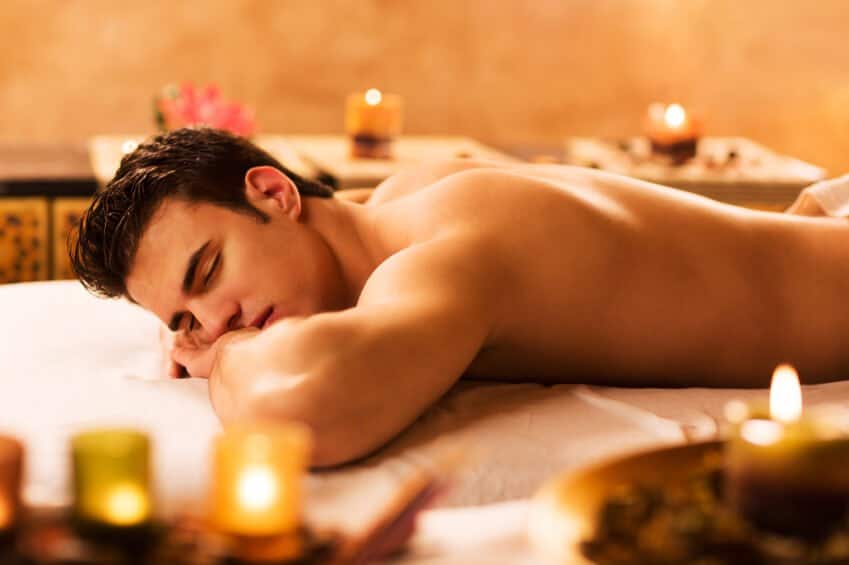 The image of a bunch of women sitting around drinking mimosas the entire vacation is what most people think of when you say spa vacation, but it's so much more. Of course, there's the chance to be pampered with spa services like massages, facials, and more, but that's not all you can expect. In fact, some men attending spa vacations may not even step foot in the spa because of the other activities that are available. That being said, there are several benefits that come from getting a stone massage to work out the kinks or a facial to give your skin a boost. Most spas catering to men feature more masculine products, so you won't feel as though you smell like a lady afterward.
Many men taking spa vacations are taking a chance to relax and unwind with more sports options. Often activities included at spa vacations are hiking, sports, yoga, and other fitness activities. You may be able to take a boot camp, boxing classing, and other high-intensity workouts depending on the offerings available at that particular spa. Water sports, like water volleyball, are another option some spas feature. Some spas offer activities like hunting, fishing, and more to entice men to step back from their busy lives. However, some men are finding just being able to get away to a spa setting, lounging in the outdoors, and taking a dip in the hot tub is exactly what they needed. The key to these activities is to get away from the stress of everyday life and recharge your batteries.
How Do Spa Vacations Benefit Men?
The main benefit that men can get from a spa vacation is the same as for women: getting a chance to leave everyday stress behind. Working a 9 to 5, caring for families, and making time for hobbies and yourself is never easy. There's typically always something else that you could be doing at that moment rather than taking a moment just to breathe. A spa vacation can give you a chance for pampering through massages and other services, but it's also beneficial for taking that step back even without the pampering. However, after an intense wrestling or boxing session, that massage may sound pretty enticing.
Often, men are made to feel that they don't need a break, but that's not the case. Even Superman needs a chance to get away from it all. Seeing these benefits can help you to feel better at home, work better, and feel more in touch with yourself. It's time for men to give themselves the support they need and take a bit of time for themselves. The spa is the perfect opportunity for them to achieve this outcome.
Join Other Men Taking Spa Vacations
Spa vacations are a great way to step back from the busyness of your life and relax. You don't always have a chance to get away for a long trip. Therefore, a day spa may have exactly what you need to relax. Many day spas are catering to men thanks to this growing trend. Skin Apeel Day Spa is here for you. We have a wide variety of services geared to our male customers looking to relax and be pampered. Contact us today to set up an appointment for one of our stone massages or other services. Take some time for yourself.