It's a universal fact that women always want to look their best, regardless of whatever else is on their plate. Whether you're a busy career woman or a mom juggling work and home life, taking care of yourself should always be a priority. And it's not just about vanity.
Taking care of your skin is essential for both physical and mental well-being. This is where the Ultrasonic Facial Treatment comes in. It's a technology that uses ultrasonic waves to rejuvenate your skin and give you that natural vibrancy and youthful glow.
What is Ultrasonic Facial Treatment?
Have you ever heard of ultrasonic facial treatment? It's medically proven that uses ultrasound waves to loosen and remove dead skin cells while restoring the skin's natural vibrancy. Ultrasonic facial treatment is safe and proven to provide instant and long-lasting results, making it an ideal solution for anyone looking for healthy and glowing skin.
The premier ultrasonic facial treatment at Skin Apeel is a state-of-the-art, high-tech packaged-priced facial that includes hydro-brasion, ultrasound therapy, target serum deep infusion, and an advanced lifting-tightening mask.
How Does It Work?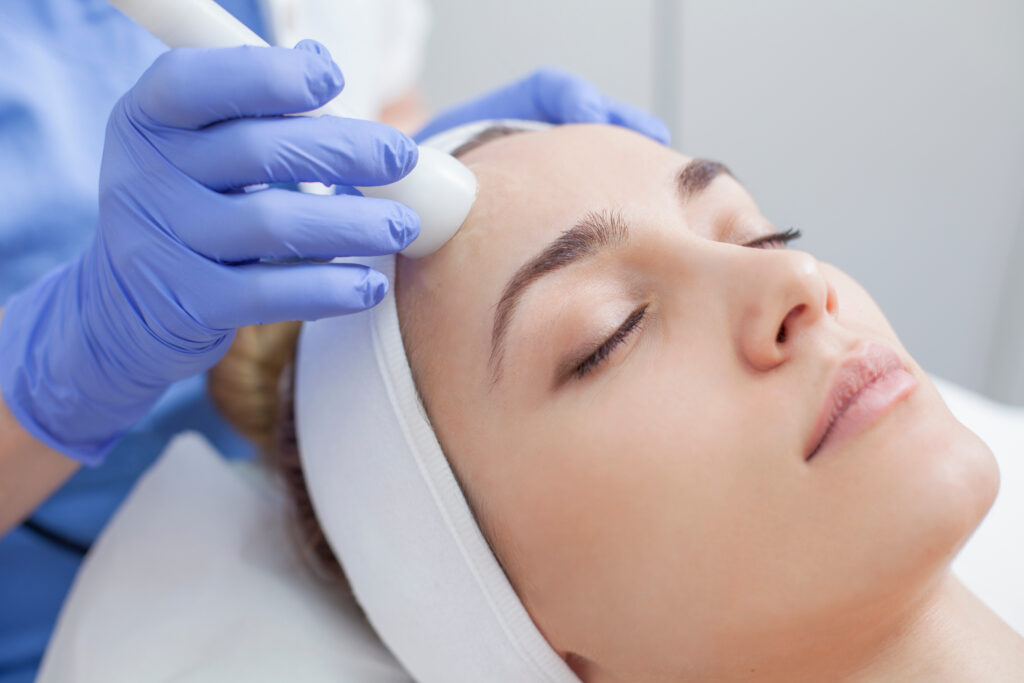 The treatment uses sound waves to penetrate the skin, reaching the deeper layers of the dermis, where dead skin cells and other impurities reside.
The sound waves loosen and destroy these impurities, leaving your skin rejuvenated and healthy-looking. Ultrasonic facial treatment also boosts collagen production, which is essential for reducing the appearance of wrinkles and fine lines.
Additionally, the sound waves help increase blood circulation, bringing oxygen and essential nutrients to the skin cells, making them healthier and firmer.
Suggested Article: Unbeatable Black Friday Deals in Boca Raton: Spa Specials and More!
What Is an Ultrasonic Facial Good For?
Using Skin Apeel's ultrasonic facial treatment, you can benefit from improved skin clarity and reduced acne scars and fine lines. It combats puffiness, promotes cellular renewal and repair, and tones facial muscles effectively. An ultrasonic facial treatment can also be used to improve sun damage and uneven skin tone and prevent skin dehydration.
Notably, ultrasonic facial treatment is ideal for women always on the go. It's a painless, safe, and non-invasive treatment that provides instant results with no downtime. It doesn't leave your skin red or itchy, meaning you can return to your daily routine immediately after the treatment.
What Is the Difference Between Hydrafacial and Ultrasonic Facial?
HydraFacial involves the use of a machine that comprises of multiple unique tips. The machine suctions oil, dirt, and dead skin cells from your pores while simultaneously infusing the skin with serums containing essential antioxidants, peptides, and hyaluronic acids, which replenish and nourish your skin.
The HydraFacial treatment process typically takes anywhere between 30-45 minutes. It's a customizable facial, and the aesthetician can adjust the treatment to suit your specific skincare needs. With HydraFacial, you will experience brighter, plumper, and radiant-looking skin instantly.
Ultrasonic Facial, on the other hand, is a non-invasive skincare treatment that utilizes ultrasonic waves to exfoliate the skin. This treatment doesn't use suction mechanisms. Instead, it uses a specialized device that produces ultrasonic waves that loosen up dead skin cells, dirt, and oil for removal. Ultrasonic Facial treatment aims to improve skin texture, increase blood flow, and reinvigorate the skin cells. This treatment is ideal for people with acne, fine lines, and wrinkles.
When comparing HydraFacial and Ultrasonic Facial, the main difference lies in their mechanisms. HydraFacial combines exfoliation and infusion, while ultrasonic facial relies solely on ultrasonic waves.
The key distinction between the two treatments is the results. HydraFacial gives you an instant glow with long-lasting hydration, while Ultrasonic Facial offers improved skin texture and increased blood flow for a more youthful and brighter complexion.
How often should you do ultrasonic facial?
For those with normal or combination skin who want general maintenance, once every 4-6 weeks is usually recommended. Those who suffer from acne can benefit greatly from weekly treatments, while those with congested pores may find that fortnightly sessions work best for them.
For those seeking more intense results such as wrinkle reduction or fading scars, monthly ultrasonic facials can complement treatments such as peels and topical creams.
How much is an ultrasonic facial?
At Skin Apeel, we offer a unique ultrasonic facial package that is both affordable and incredibly effective! Skin Apeel offers an Ultrasonic Facial treatment at a price of just $335. This facial treatment is designed to deeply cleanse and exfoliate the skin, removing dead skin cells and impurities to reveal a glowing, revitalized complexion.
Final Thoughts
Healthy and glowing skin is an essential aspect of a woman's life. With ultrasonic facial treatment, you can achieve flawless and vibrant skin painlessly. You don't need aggressive procedures; this treatment is safe and comfortable. Not only that, but it's a wonderful way to take some time for yourself and relax.
At Skin Apeel, our experienced estheticians can tailor treatments to your specific skin needs and concerns. The Skin Apeel's ultrasonic facial treatment is an excellent investment that guarantees long-lasting results. Book your appointment today and embrace the new you.