We all know how important communication is in a relationship – but what about touch? Physical touch can be just as important for couples, and studies show that it can help to improve your connection.
When was the last time you and your partner enjoyed a relaxing spa treatment together? If it's been awhile, then check out these five couple spa treatments that are sure to bring you closer together!
Swedish Massage
One of the most popular spa treatments, Swedish massage is a gentle form of massage that uses long strokes and kneading to relax the body. This treatment is perfect for couples looking to wind down and enjoy quality bonding time.
At Skin Apeel, our Swedish Massage is a popular choice for couples looking for a relaxing spa day. This type of massage is known for its gentle, light strokes and focus on relaxation. It can help alleviate tension in the muscles and improve circulation, providing relief from soreness and fatigue.
In contrast, deep tissue massage uses heavier pressure and targeted movements to address specific muscle issues. While it can be beneficial for those with chronic pain or specific muscle tightness, it may not be as enjoyable for couples seeking a soothing spa experience.
If you're looking for a gentle yet effective form of relaxation, our Swedish Massage at Skin Apeel is the perfect option for your next couples spa day.
Hot Stone Massage
A hot stone massage is a luxurious treatment that uses heated basalt rocks to relax the muscles. The heat from the stones penetrates deep into the muscles, providing relief from pain and tension. This treatment is perfect for those who love to be pampered and who want to experience a truly unique spa treatment.
When couples plan a day at the spa, they often think about massages for their backs and shoulders. However, adding hot stone massage to your day can elevate the experience even further.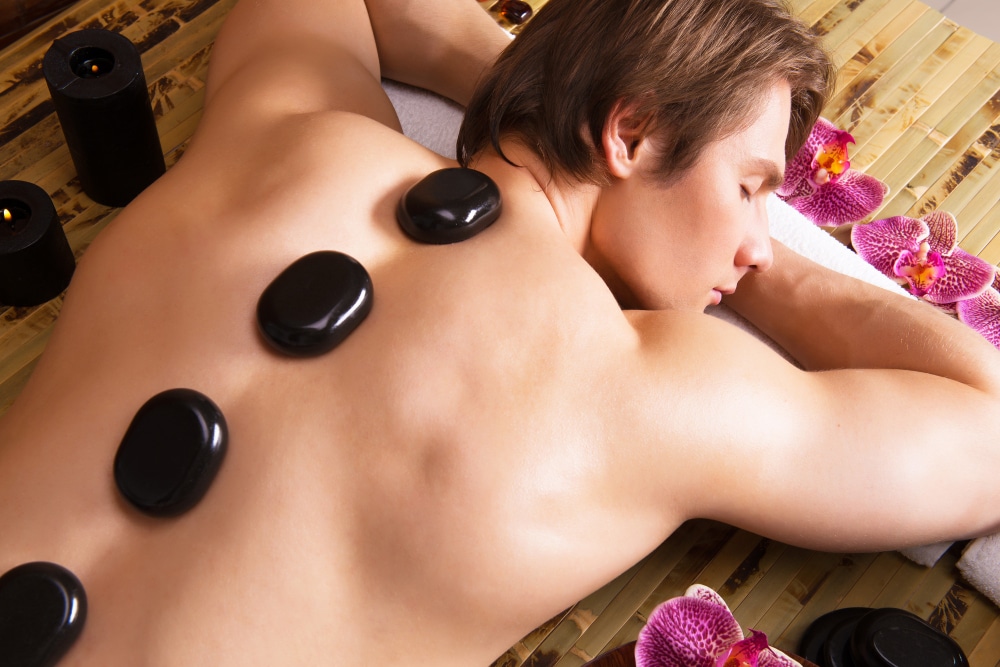 Not only can the stones be placed on your spine, but also on your palms, feet, toes, and stomach. This allows couples to customize their massage and target specific areas of tension or discomfort. The heat from the stones helps to relax muscles and improve circulation, leading to a deeply soothing and rejuvenating experience.
So why not incorporate hot stone massage into your next couples spa day? Your whole body will thank you.
Reflexology
Have you ever heard of couples getting massages together at a spa? Well, couples can also enjoy reflexology sessions together. Reflexology is a form of alternative medicine where specific pressure is applied to the feet, hands, or ears to affect various parts of the body.
These pressure points are believed to correspond with different organs and systems in the body. While it can be enjoyed on its own, couples may find it particularly relaxing to have their reflexology sessions done side by side, allowing them to destress and reconnect with each other.
So next time you're planning a couples spa day, consider adding on a reflexology session for an extra dose of relaxation.
Assisted Stretch Therapy
Assisted stretch therapy is similar to traditional stretching in that it involves lengthening the muscles and connective tissues. However, unlike traditional stretching, assisted stretch therapy makes use of external support (usually in the form of hands-on assistance from a trained therapist) to help the individual achieve a greater range of motion.
This extra support allows the individual to target specific areas of tightness and stiffness, and as a result, experience greater relief from stiffness and pain.
Benefits of Assisted Stretch Therapy
There are many purported benefits of assisted stretch therapy. These include improved flexibility and range of motion, increased blood flow and circulation, reduced stress levels, reduced risk of injury, and even pain relief. Some research even suggests that assisted stretch therapy can help improve cognitive function!
How much assisted stretch therapy cost?
Assisted stretch therapy can cost from $100 to $160 per session. The price may vary depending on the location, the experience of the therapist, and other factors. It's important to note that not all stretch therapy is equal.
Some therapists use machines, while others use their hands. Depending on the type of stretch therapy you're looking for, be sure to ask about the cost and what to expect during a session before making an appointment.
Couples Facial
Couples spa day is a great way to relax and unwind while also enjoying some quality time together. A facial treatment in Boca Raton can help improve your skin's appearance and leave you feeling refreshed and rejuvenated.
Superfoods Hydration Facial
While couples' massages are a popular choice for spa treatments, there are many others options that can offer even more intimate experiences. One such treatment is the Superfoods Hydration Facial, designed to give both partners brighter complexions and boost collagen production.
Double Oxygen Vitamin C
This treatment, available for couples or individuals, offers high levels of Vitamin C to address visible signs of aging, cleanse pores, and even kill acne-causing bacteria. The added oxygen helps stimulate collagen growth, leading to firmer and plumper skin.
And if that wasn't enough, this facial also includes gentle extractions and a relaxing massage of the face, neck, and shoulders. So whether you're looking for an indulgent couples spa day or a solo self-care session, the Double Oxygen Vitamin C Facial can provide the pampering you deserve.
Bee beautiful honey
Bee beautiful honey facials are a great option for couples looking to indulge in skincare treatments together. Raw honey has antibacterial properties that reduce inflammation and act as a gentle exfoliant to remove dead skin cells, leaving the skin feeling soft and rejuvenated.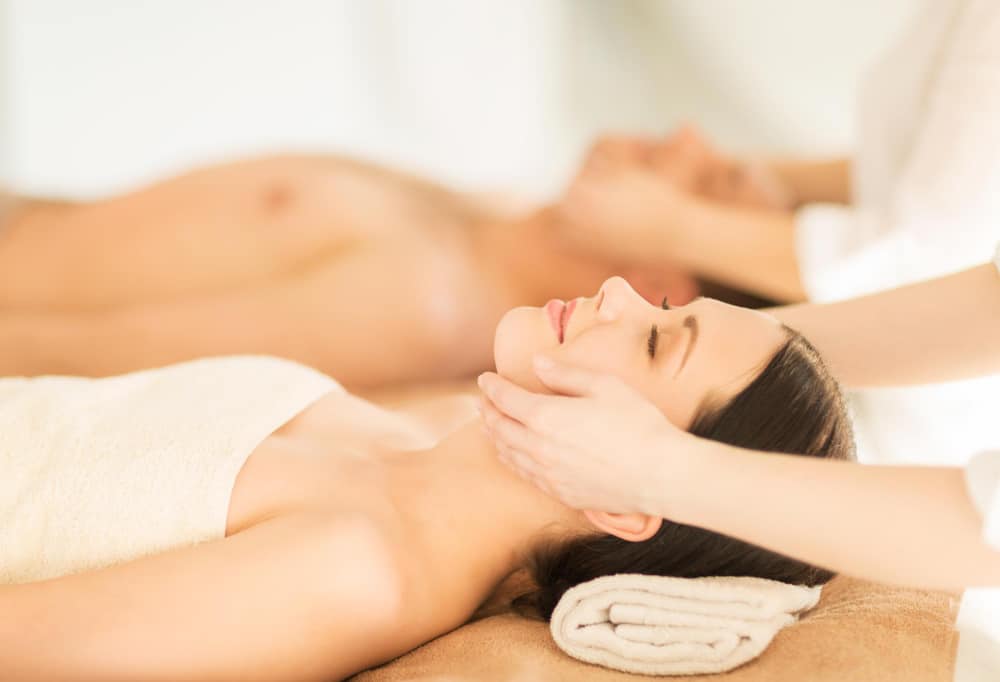 Plus, the combination of the honey's natural scent and the relaxing spa atmosphere make for an indulgent and soothing experience for both partners. So next time you're planning a couples' spa day, consider adding a bee beautiful honey facial to your list of treatments. Your skin will thank you for it.
Final thought
A couples spa day can also boost your self-esteem. When you look good, you feel good. Spending a day being pampered will leave you feeling refreshed and rejuvenated. You will look and feel your best, which will boost your confidence. A spa day is a great way to relax, reconnect, and recharge with your partner!