If you're looking for an easy way to maintain healthy skin, the NuFACE Trinity is your go-to device. This innovative facial toning device has already helped millions of people reduce fine lines and wrinkles, brighten dullness, increase skin tone and improve the visible signs of aging.
How Does It Work?
The NuFACE Trinity works by using a combination of gentle microcurrent energy, red LED light therapy, and infrared light therapy. The combination of these three technologies helps stimulate collagen production in the skin and works to give you healthier-looking skin over time. In addition to improving the visible signs of aging, such as fine lines and wrinkles, this device may also help increase blood circulation, which can lead to improved skin tone.
What Sets NuFACE Trinity Apart?
The NuFACE Trinity sets itself apart from other at-home devices thanks to its advanced technology. For instance, its patented Smart Facial Trainer attachment is designed specifically for use on sensitive areas around the eyes and mouth which are often prone to wrinkles or fine lines.
Additionally, its interchangeable attachments make it easy to customize treatments depending on your specific skincare goals. The NuFACE Trinity can be used on the entire face, neck and décolletage for a full rejuvenation treatment.
If you're looking to get healthy skin with the NuFACE Trinity, this device has you covered! With its advanced technology and innovative features, it is sure to provide you with the results you seek.
Using the Smart App
One of the best features of this device is that it comes with a free smart app that makes getting started easy! With step-by-step tutorials, a Selfie Tracker for progress tracking and custom reminders to stay on track with your treatments, you can ensure that you get healthy skin in no time! Furthermore, since this device is approved by dermatologists worldwide – you know you're getting quality results every time.
Benefits of Using NuFACE Trinity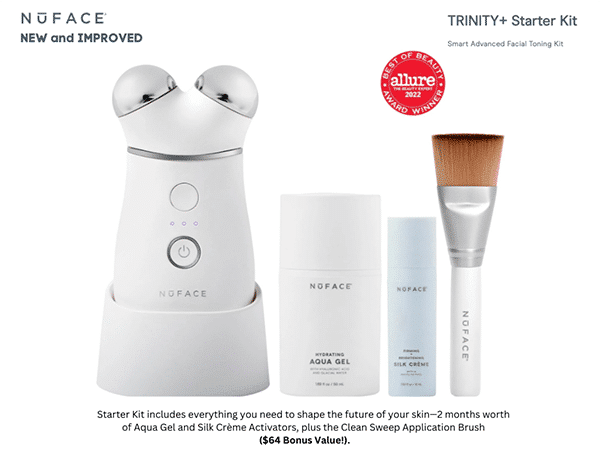 The main benefit of using NuFACE Trinity is that it helps restore your skin's youthful appearance by reducing wrinkles, brightening dullness, and increasing skin tone. Additionally, there are several other benefits associated with this device such as: 
Improved self-confidence
Not only does NuFACE Trinity reduce the visible signs of aging but it also boosts confidence due to its easy-to-use design which allows you to treat yourself at home without any assistance from professionals or expensive treatments in salons or clinics.
Increased circulation
The electrical current emitted by the device helps increase circulation in the treated area resulting in improved oxygenation which then leads to healthier-looking skin!
Reduced inflammation
The red LED light therapy helps reduce inflammation in the treated area which then reduces puffiness around the eyes or any other areas where inflammation may occur such as acne scars or sunspots.
Cost effective
When compared to costly treatments such as Botox injections, using NuFace Trinity is much more cost-effective since it requires minimal investment upfront and no recurring costs for treatments over time!
Time efficient
With just a few minutes per treatment area, you can achieve professional results without investing hours into treatments every week as some other anti-aging solutions require.
The list goes on! As you can see, there are so many amazing benefits associated with using NuFace Trinity for anti-aging purposes!
The NuFACE Trinity Starter Kit is a must-have for anyone trying to look their best. Through its innovative technology, the NuFACE Trinity helps reduce the appearance of wrinkles and fine lines, giving you a younger and more vibrant look. Don't wait, visit our specials page today to get all the facts, 
Final Thoughts
The NuFace Trinity offers an easy way to improve your skin's appearance without resorting to invasive procedures like Botox injections or surgery. With its combination of low-intensity electrical current and easy-to-use attachments, this device promises visible improvements after just 5 minutes per treatment area!
Plus, with its accompanying smart app, you'll have access to step-by-step tutorials, a selfie tracker for progress and achievements, and custom reminders so that you'll never miss a beat when it comes to taking care of your skin! Try out this revolutionary device today for youthful-looking skin tomorrow!