It's Not About Us!
It's About YOU!
Invest in Your Health to Invest in Yourself
---
Clean Care refers to our emphasis for organic, clean, cruelty-free ingredients and our commitment to maintaining clean hygienic practices. We also implement clean air using plant based essential oils to oxygenate,and purify our garden-like retreat indoor spa ambiance.  Our team practice what they preach, living clean lifestyles which promotes confidence and trust to guide our clients.  Our entire spa team is sincere with our level of care, recommendations and beliefs.
Personalized Service refers to our warm, friendly, professional treatments by expert licensed specialists.  Our environment exudes a harmonious, unified team setting- the vibe is inviting and clients are welcomed by name. Guests quickly settle in, feeling at ease and at home. The phrase we hear time and time again is "I feel better just walking through your doors". Clients take permission to leave their day's responsibilities and stressors at our door and fully escape into our spa world.  Our services are not cookie cutter as clients typically don't choose from our menu of offerings- Instead we encourage scheduling time and allowing our diagnostic specialists to build a customized treatment care approach, tailored to your immediate needs.
Beauty Through Well-ness is our overall philosophy of care. Our holistic vision with is mindful to care for the client's concerns, yet not harm the entirety of the person in the process.  We combine innovative and advanced technologies with organic high performance products to get safe and effective results.  Our clients have grown to trust products on our boutique shelves and services within our treatment rooms, knowing our pure values and reputation for integrity.  We never compromise on this ideal and stay fresh with education and growth.  Our environment offers a beautiful sensory experience supporting our guest's blissful and peaceful state of mind.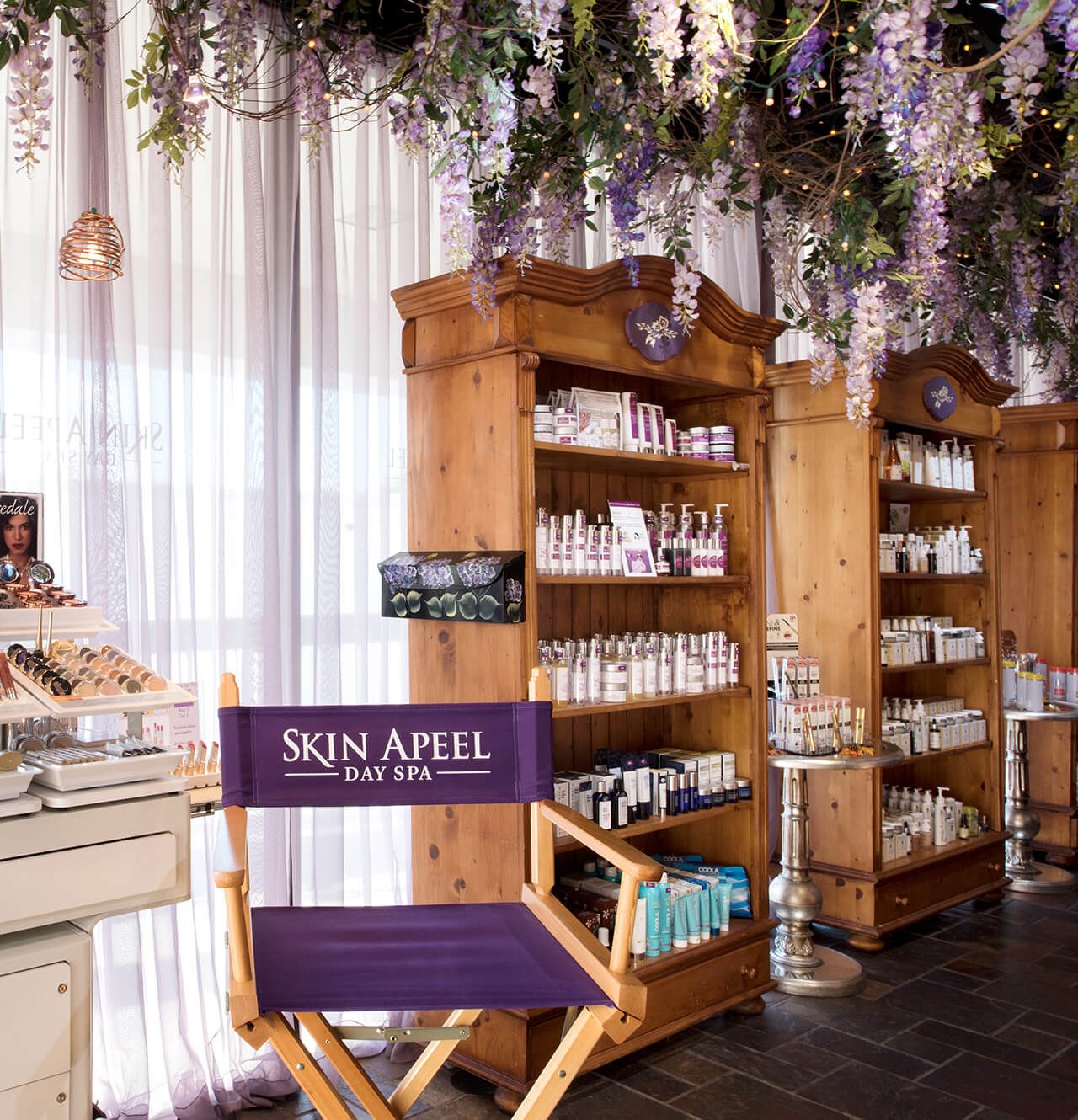 Time
Well

Spent
---
Destination To Shop– Our 1000 square foot beauty through well-ness boutique is filled with trendy gifts, artisan jewelry, holistic home care devices, clean products for skin, body and hair, high quality internal supplements and neutraceuticals.  We are a destination to stop and shop.  Our belief is that "retail therapy" is a form of release, enjoyment and supports healthy self-care which is an emphasis in our spa culture.  We encourage guests to visit soley for a cup of daily tea and a healthy dose of retail therapy. 
Skin Care Simplified– a motto for our team approach. Clients are looking to have guidance and education and that's part of our promised "full service" experience. We do more than deliver exceptional treatment and care, we provide simplistic guidelines for home care, lifestyle and overall well-being.  We take the mystery out of your ideal product, makeup and or supplement to purchase. We are a team of educators first, skilled service specialists, second.
Branded Organic Formulations– Unique to our facility is an opportunity for any client, any age, to love their skin and body for an affordable price. Our exclusive organic formulations are our collaboration of expert team masterminding, The Skin Apeel brand continues to grow with organic advancements, designed to deliver fast results. We offer solutions that cater to our warm humid climate and our client's busy lifestyles. We are certain you will be happy with our money back 30 day guarantee. show me more
Our Team
---
We are proud to share that Skin Apeel Day Spa was the first day spa in Boca Raton founded in 1992. Our team has been together since inception, with new additions to our spa family along with each expansion. Our expert team and near non-existent turn over rate, allow for the most consistent service and guest care. Our unified goal is to bring you innovative beauty through wellness with our exclusive treatments, products and talents. Come share in our spa culture and join our family.
Skin Apeel Day Spa Accolades
---
Recipient BEST SKIN TREATMENT Award- 7 years consecutive
Nominated TOP FACIAL BOCA RATON
Named SOUTH FLORIDA'S BEST HOLISTIC SPA
Acclaimed 5 STAR Reviews
Top South Florida Retailer for Arcona, Eminence and Jurlique exclusive products
Recognized for charitable community contributions
Member of Boca's Green Team
Founder, Aesthetician and CEO, Kim Knapp – 2X Recognition as Top Successful Woman Entrepreneur
National and local magazine press for outstanding spa service, natural products and overall guest satisfaction