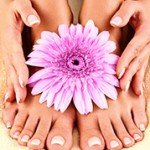 Manicure and Pedicure – Skin Apeel Day Spa is your healthy nail spa for hands and feet nestled in a serene environment. Pipe-less technology along with meticulous sanitation allow your relaxation and results.
Manicures
Spa
$25
*traditional basic
Restorative
$29
*recovery service *repairs and restores *organic nail proteins
European Water-less
$35
*no water *keratin protein gloves *hydrates hands and cuticles.
Shellac
$45
*lasts 10-14 days  *instant LED dry *non-chip results  45 mins.
Hand Age-Defying
$75 single /4-pack series $260
*glycolic hand peel *LED photo rejuvenation *brightening spf  *vegan fast dry polish  60 mins.
Dazzle vegan fast dry polish
$8
Summer Pedicures

NEW Organic Sunflower
$69
*organic soothing soak *whipped scrub *flower beta-carotene serum *organic sunflower massage
NEW Island Breeze
$59
*mint julip soak *peach sugar orchid scrub *coconut-pineapple massage
NEW Men's Organic Sports
$59
*tub of soothing suds *mojito-lime scrub *signature organic men's herbal foot massage
Blue Mint Relief
$59
*mint refreshing soak *peppermint scrub *cooling relief massage *pregnancy safe
Gluten-Free
$59
*olive oil-grapeseed soak  *honey lavender scrub *vanilla-citrus massage  *100% gluten-free
Avocado Lime
$83
*lime-cilantro soak *shea kissed scrub *avocado green tea mask *pomegranate extended massage  80 mins.
Power Plus
$83
*vitamin softening soak *potent salicylic fruit peel *soy mineral mask *creamy extended massage  80 mins.
Tri-Crystal Microdermabrasion
$59
*rosemary refresh soak *magnesium-salt microderm *restorative massage
Non-pedicure get off your feet escapes…
Thai Foot & Leg Treatment
$85
*traditional acupressure massage *river stones *warm towels *hydrating mask  *luxurious spa escape  80 mins.
Himalayan Detox Foot & Leg Therapy
$69
*hibiscus bath *triple salts exfoliation *acupressure mini massage *vegan dazzle polish
$38
$25
Dazzle vegan fast dry polish
$10