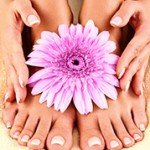 Manicure and Pedicure – Skin Apeel Day Spa is your healthy nail spa for hands and feet nestled in a serene environment. Pipe-less technology along with meticulous sanitation allow your relaxation and results.
Manicures
Spa
$25
Traditional basic manicure.
Restorative
$29
A recovery manicure to repair and restore. Organic nail proteins stimulate nail growth and condition dry brittle nails.
NEW European Water-less
$35
A European style manicure that omits water.  Keratin rich protein gloves deeply hydrate hands and cuticles.  Includes hand massage, cuticle care and fresh polish.
Shellac
$45
Take a week off as gel nail polish gives you the luxury of a two week manicure. Instant dry and non-chip results are yours today. 45 mins.
NEW Margarita Peel Plus
$75 Includes Manicure    4-Pack Weekly Series $260
An advanced glycolic hand peel with LED photo rejuvenation to restore a youthful appearance.   Reduces brown spots, dry skin and visible signs of aging. Best results achieved with a series of four to six weekly light sessions.  60 mins.
Dazzle vegan fast dry polish
$8
Pedicures
NEW Jindilli Wonderlust
$69
Glide through life with your feet and lower legs exfoliated and anointed.  This Auss-ome experience features a rich delicious macadamia-melt massage.  Irrestible aroma with hydrating results… Tis the season to be head to toe jolly!
NEW Butterscotch a la Mode
$59
Dip into a butterscotch effervescent soak.  Skin will be polished to sweet perfection as a brown sugar rum scrub banishes winter rough spots.  The cherry on top is a creamy cocoa and mango foot massage.  Delectable!
Toasted Marshmallow Latte
$59
How wonderful is a soothing milk bath, followed by a whipped sugar scrub infused with Arabica coffee beans!  Smooth out the spell with the magic of caramel shea butter.  Glimmer, glow and glisten for hours.
Blue Mint Relief
$59
Energize lower legs and tired toes. This cooling foot pleaser revitalizes circulation, reduces ademia and sends you home refreshed.  Ideal for pregnancy and men love it too!
NEW Gluten-Free
$59
It starts with an antioxidant-rich soak, infused with cinnamon, olive fruit and grape seed oils.  A whipped sea salt scrub leaves skin fresh as flowers.   Restore with a tropical massage of vanilla citrus coco butter.  100% gluten-free care.
Avocado Lime
$83
Soak up a lime-cilantro antioxidant oil to caress dry skin. Creamy shea butter and sugar exfoliation nicely smooth rough spots.  A Guac star rich avocado butter mask locks in moisture with essential green tea, goji and pomegrante.   Wrap up in a warm decadent glaze of raw honey and papaya to breathe life into dry skin.  80 mins.
Power Plus
$83
Power peel away dryness with potent Salycilic-pineapple enzymes to soften neglected heels and feet.  Our creamy Ginger milk mask hydrates and "heels" during your luxurious extended pampered pedicure.  80 mins.
Tri-Crystal Microdermabrasion
$59
Kick up your heels with this triple action pedicure. Magnesium, Sea Salt and Sugar promise to deeply exfoliate, soften and restore mega amounts of moisture.
Thai Foot & Leg Treatment
$85
Pure bliss for the legs and feet. Traditional acupressure, massage, river stones and warm towels synergized to revitalize and refresh your entire being.  This is not a pedicure yet a luxurious spa escape from reality.  80 mins.
NEW Himalayan Detox Foot & Leg Therapy
$69
Triple salt Lavender-hibiscus foot bath softens and detoxifies.  Exfoliation to perfection, to then nourish with Age-less agave oil.  Thai massage and acupressure transcend you to zen.  This mini-pedicure includes nail and cuticle care with vegan fast dry polish.
$38
$25
Dazzle vegan fast dry polish
$10